Jill Goldman - Director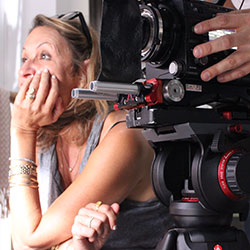 Jill Goldman is a filmmaker and social activist. She received her MFA from UCLA Film School before directing her first feature film LOVE IS LIKE THAT starring Tom Sizemore, Richard Edson, Debi Mazar, and Seymour Cassel. She has also directed several short films including HOLDING MARGIE'S HAND starring Jennifer Jason Leigh and Eric Stoltz which have won many awards and screened in numerous international film festivals. She directed a video for Lenny Kravitz "Blues for Sister Someone" and produced the play SEA OF CORTEZ by John Steppling, which won the Pen West Writers Award and the feature film CLEOPATRA'S SECOND HUSBAND released by First Run Features.
For the past 12 years Jill has dedicated her life to improving the lives of vulnerable children both locally and in the developing world. Jill is the Co-Founder of the Go Campaign, a global non-profit that supports and provides aid to grassroots organizations that serve children in need in 30 countries. GIRL BEFORE A MIRROR marks her return to filmmaking.
Jon Reiss - Producer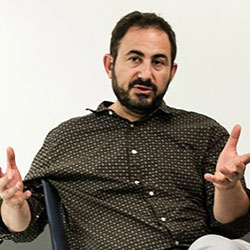 Named one of "10 Digital Directors of Watch" by Daily Variety, Jon Reiss is a critically acclaimed filmmaker whose experience releasing his documentary feature, BOMB IT with a hybrid strategy was the inspiration for writing Think Outside the Box Office: The Ultimate Guide to Film Distribution in the Digital Era, the first step-by-step guide for filmmakers to distribute and market their films. He recently co-wrote Selling Your Film Without Selling Your Soul and Selling Your Film in Europe.
Over his thirty-year career, Reiss has also produced four feature films and numerous documentaries on every continent. As a media strategist, he has helped numerous filmmakers and companies navigate the new distribution and marketing landscape. He has worked with IFP, Paramount Studios, Screen Australia, Film Independent, Creative Scotland, and The South Australian Film Corporation. He has conducted his TOTBO Master Classes over five continents and is the year-round distribution and marketing lab leader at the IFP Filmmaker Labs. He also teaches at the Film Directing Program and Cal Arts and contributes to Filmmaker Magazine, The Huffington Post, Indiewire, Screen Daily, Moviemaker magazine, and other publications.
Amy Ziering - Executive Producer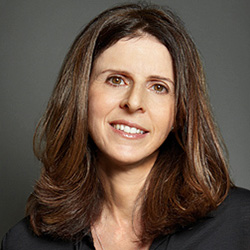 Amy Ziering is an Academy award nominated and two-time Emmy award winning documentary filmmaker. Her most recent film, THE HUNTING GROUND, a piercing, monumental exposé of rape culture on campuses, poised to light a fire under a national debate, premiered at the 2015 Sundance Film Festival. Her previous film, THE INVISIBLE WAR, a groundbreaking investigation into the epidemic of rape in the U.S. military, won the Audience Award at the 2012 Sundance Film Festival, the Independent Spirit Award 2012 for Best Documentary, was nominated for an Oscar and won the 2014 Emmy Awards for Best Documentary and Outstanding Investigative Journalism. Released by Cinedigm/Documara, and broadcast on PBS, the film led Secretary of Defense Leon Panetta to announce significant policy changes, inspired Senator Gillibrand to co-author and push for the passage of the Military Justice Improvement Act (MJIA), and was the catalyst for the penning and passing of 35 additional new Congressional reforms. Her previous film, OUTRAGE, for which she received an Emmy nomination for Outstanding Investigative Journalism, is a searing indictment of the hypocrisy of powerful, closeted politicians and the institutions that protect them. It was distributed by Magnolia Pictures and had its television premiere on HBO. Ziering also produced THE MEMORY THIEF, which stars Mark Webber, Rachel Miner, and Jerry Adler and is a thought-provoking examination of the relationship between empathy, narcissism and trauma. It was a New York Times critics' pick and won several festival awards.
Prior to this, Ziering co-directed and produced DERRIDA, a documentary about the world-renowned French philosopher and the philosophical movement known as Deconstruction. The film premiered at the Sundance Film Festival, won the Golden Gate award at the San Francisco Film Festival, was released theatrically by Zeitgeist Films and features an original score by Oscar winning composer Ryuichi Sakamoto. Ziering's first film, Richard Cohen's critically acclaimed TAYLOR'S CAMPAIGN, was a documentary about Ron Taylor, a homeless person who ran for a seat on the Santa Monica City Council. She is the 2012 recipient of the Nestor Almendros Prize for Courage and Filmmaking, the 2013 Ridenhour Documentary Film Prize, the 2013 Gracie Award for Outstanding Producer - News/Non-Fiction, the 2013 Peabody Award, the 2014 ABA Silver Gavel Award for Television, the 2014 Media Impact Henry Hampton Award for Excellence in Film and Digital Media, and two 2014 News Emmys. Ziering is currently in production on a new project for HBO.